Luc PEIRE
(Brugge 1916 - Parijs 1994)
Beeldend kunstenaar Luc Peire (°Brugge 1916 – †Parijs 1994) evolueerde vanuit het expressionisme (in het zog van Constant Permeke) over een persoonlijke reductie en stilering van de menselijke figuur (tijdens de jaren '50) naar een voorstelling van de mens als spiritueel wezen, gesymboliseerd in de verticale beweging en gesitueerd in een uitgebalanceerde ruimte. Zo groeide Peire internationaal uit tot de meester van het abstract verticalisme.
Voor deze ontwikkeling was de artistieke dialoog met figuren als Eduardo Westerdahl, Alberto Sartoris, Josep María Subirachs, Michel Seuphor, Leo Breuer en Mathias Goeritz cruciaal.Met de zwart-wit-'graphie' als persoonlijke kunstvorm bereikte Luc Peire de essentie van zijn doorgedreven verticalisme. Hij paste dit model van geritmeerde 'optical art' toe in zijn drie spiegel-environments (1967, 1968, 1973) waarin hij in uiterste consequentie de climax van zijn artistieke streven bereikte: het oneindige (l'infini) en de ruimte (l'espace).Peires wil tot samenwerking met andere kunstenaars, architecten en urbanisten leidde tot heel wat integratieprojecten in België en Frankrijk. De artistieke carrière van Luc Peire volgde een internationaal parcours. Daarover getuigde de echtgenote van de kunstenaar, Jenny Peire-Verbruggen, in haar dagboeknotities De ateliers van Luc Peire, postuum in 2001 uitgegeven door Ludion (Gent-Amsterdam) en geannoteerd door Marc Peire.In juli 2003 stelde Atelier Luc Peire - Stichting Jenny & Luc Peire het atelier van de kunstenaar te Knokke (België) open voor het publiek.
L'artiste plasticien Luc Peire (°Bruges 1916 – †Paris 1994) est parti de l'expressionnisme (dans le sillage de Constant Permeke) pour évoluer vers une réduction et une stylisation personnelle de la figure humaine (dans les années 50), puis une représentation de l'être humain en tant qu'être spirituel symbolisé par le mouvement vertical et situé dans un espace équilibré. Peire a bientôt été reconnu internationalement comme le maître du verticalisme abstrait. Dans cette évolution, le dialogue artistique avec des personnalités comme Eduardo Westerdahl, Alberto Sartoris, Josep María Subirachs, Michel Seuphor, Leo Breuer et Mathias Goeritz a joué un rôle crucial. Avec la « graphie » en noir et blanc comme expression artistique personnelle, Luc Peire a atteint l'essence de son verticalisme pointu. Il a appliqué ce modèle d' « optical art » rythmé dans ses trois environnements-miroirs(1967, 1968, 1973), dans lesquels, poussant sa logique jusqu'à l'extrême, il a abouti au summum de sa recherche artistique : l'infini et l'espace. Le désir de Peire de collaborer avec d'autres artistes, architectes et urbanistes a conduit à de nombreux projets d'intégration en Belgique et en France. La carrière artistique de Luc Peire a suivi un parcours international, comme l'épouse de l'artiste, Jenny Peire-Verbruggen, en a témoigné dans les notes de son journal Les ateliers de Luc Peire, publié en 2001 à titre posthume par Ludion (Gand-Amsterdam) et annoté par Marc Peire. En juillet 2003, L'Atelier Luc Peire - Fondation Jenny & Luc Peire a ouvert au public l'atelier de l'artiste à Knokke (Belgique).
Painter Luc Peire (Bruges 1916 – Paris 1994) evolved from Expressionism (in the wake of Constant Permeke), through a personal reduction and stylization of the human figure in the 1950s, to presenting human beings as spiritual beings, symbolised in vertical movement and situated in a balanced space. In so doing Peire developed into the international master of abstract verticalism. Crucial to this development was his artistic dialogue with Eduardo Westerdahl, Alberto Sartoris, Josep María Subirachs, Michel Seuphor, Leo Breuer, Mathias Goeritz and similar figures. With his black and white 'graphy' as his trademark artform, Luc Peire attained the essence of his advanced verticalism. He applied this model of rhythmic optical art in his three mirror environments (1967, 1968 and 1973), attaining as ultimate consequence the climax of his artistic search: the infinite (l'infini) and space (l'espace). Peire's desire to cooperate with other artists, architects and urban planners gave birth to a number of integration projects in Belgium and France. Luc Peire's artistic career followed an international course. This is traced out in the diary entries of his wife, Jenny Peire-Verbruggen, published posthumously in 2001 by Ludion (Ghent-Amsterdam) as De ateliers van Luc Peire, and annotated by Marc Peire. In July 2003 the Atelier Luc Peire - Jenny & Luc Peire Foundation opened the artist's studio in Knokke to the general public.

Der Bildende Künstler Luc Peire (*Brügge 1916 – †Paris 1994) entwickelte sich ausgehend vom Expressionismus (im Fahrwasser Constant Permekes) über eine persönliche Form der Reduktion und der Stilisierung des menschlichen Körpers (während der 50er Jahre) hin zu einer Darstellung des Menschen als spirituelles Wesen, symbolisch dargestellt als eine vertikale Bewegung in einem ausgewogenen Raum. Dies verlieh Peire in der internationale Kunstszene als Meister des abstrakten Vertikalismus Ruhm und Ehre. Seine Entwicklung wurde durch den künstlerischen Dialog mit Persönlichkeiten wie Eduardo Westerdahl, Alberto Sartoris, Josep María Subirachs, Michel Seuphor, Leo Breuer und Mathias Goeritz maßgeblich beeinflusst. Mit der ihm eigenen Kunstform, der schwarz-weiß-"Graphie", drang Luc Peire bis zur Quintessenz seines ausdrucksvollen Vertikalismus vor. Er wandte das Modell des rhythmischen "optical art" in seinen drei Spiegel-Environments an (1967, 1968, 1973), wodurch er in äußerster Konsequenz den Höhepunkt seines künstlerischen Schaffens erreichte: das Endlose (l´infini) und den Raum (l´espace). Peires Wunsch, mit anderen Künstlern, mit Architekten und Städteplanern zusammen zu arbeiten, mündete in Belgien und in Frankreich in eine Reihe von Integrationsprojekten. Die künstlerische Laufbahn Luc Peires folgte einem internationalen Parcours, was man in den Tagebuchaufzeichnungen von Jenny Peire-Verbruggen, der Ehefrau des Künstlers, De ateliers van Luc Peire, 2001 posthum und mit versehen Kommentaren von Marc Peire bei Ludion (Gent-Amsterdam) erschienen, nachlesen kann. Seit Juli 2003 machte das Atelier Luc Peire - Stichting Jenny & Luc Peire die Wirkungsstätte des Künstlers in Knokke (Belgien) für die Öffentlichkeit zugänglich.
(copyright: www.lucpeire.com)


Dyptique rood 1990 57 x 76 (motif 39.3x 58.2) cm ets 1/25 pap. 'BFK RIVES' printed FELT
1.000,00 €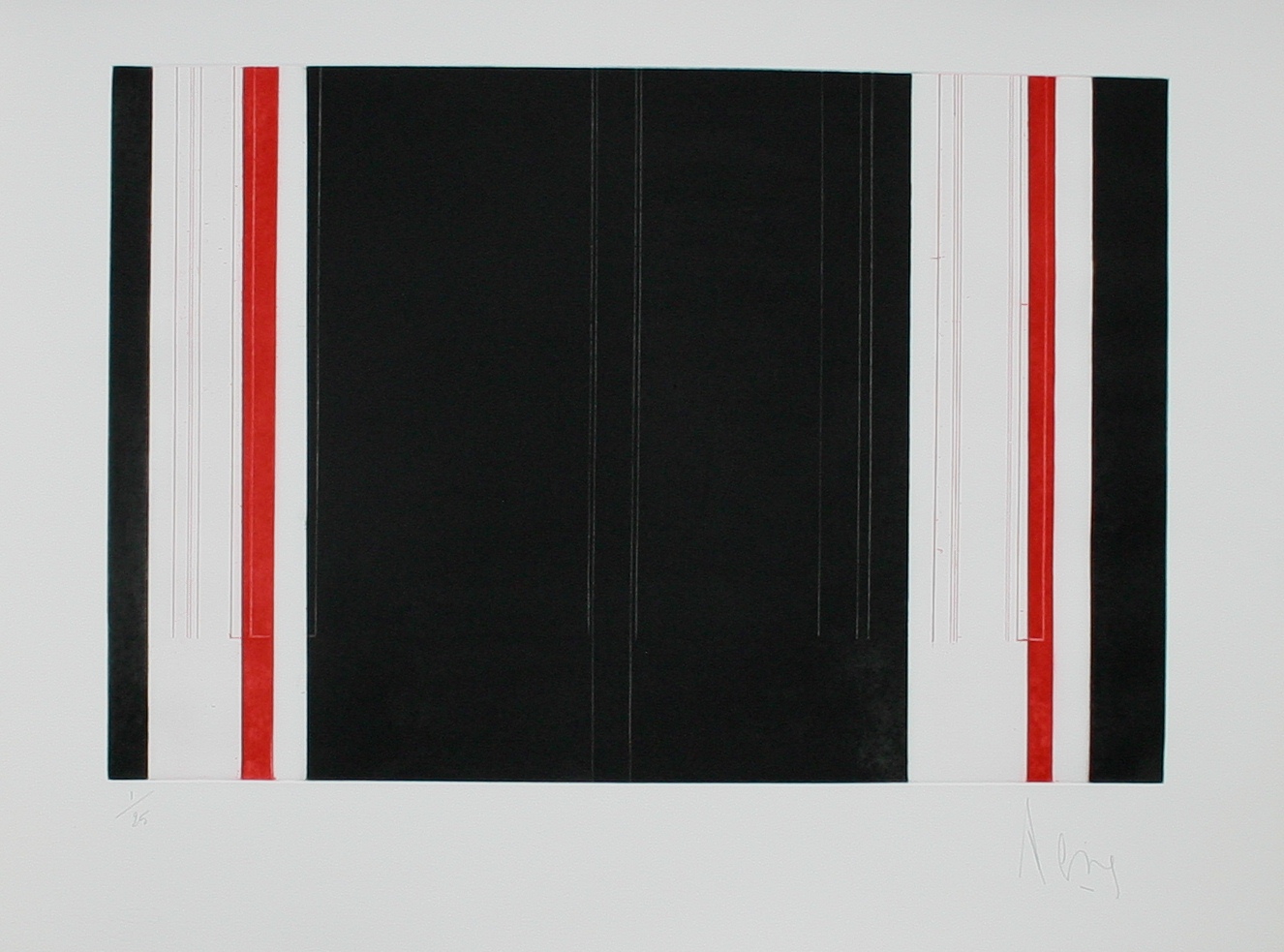 Dyptique zwart ets 1990 57 x 76 (motif 39.3x 58.2) cm ets 1/25 pap. 'BFK RIVES' printed FELT
1.000,00 €

Volta aquatint op koper 1972 34 x 25 cm VI/XXV
900,00 €



Washington 1966 ets 31 x 41 cm (50 x 45 cm pap.) I/L Robert Flélaut
900,00 €